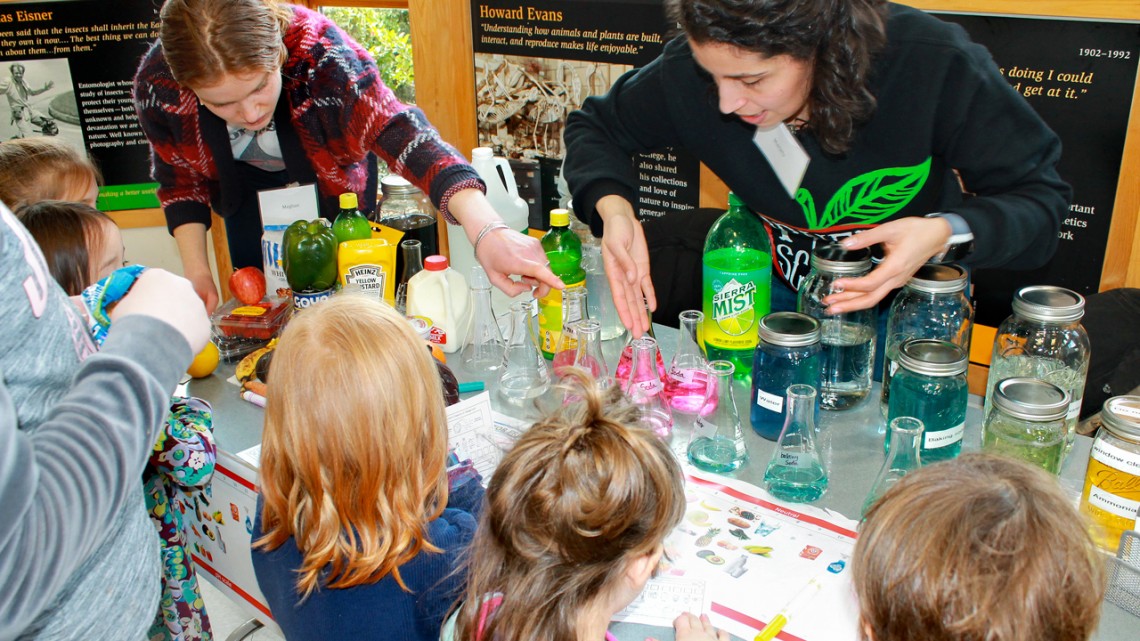 Cornell graduate students captivate kids with food science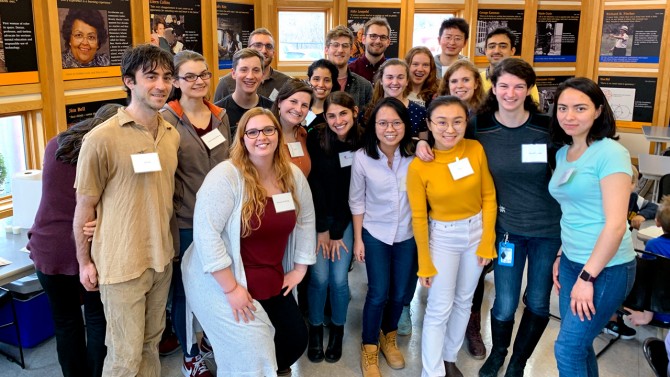 The sodium alginate is always greener at someone else's science station.
About a dozen Cornell graduate students in food science entertained hundreds of children at the Ithaca Sciencenter on Feb. 19 by explaining the secrets of gummy worms (sodium alginate, the seaweed material that gums the candy), pickles (fermentation science), protein foams (whipping egg whites into meringue and making marshmallows), and showing why oil and vinegar don't mix (emulsions).
But don't tell the mesmerized kids – who clambered for hours to each table – that they were actually learning, as harried parents and grandparents sat back to let the graduate students deftly illuminate the spellbinding world of food science.
Alex Macbeth and Margaux Ehrlich described how protein polymers can trap air, while the children – absorbed in science – were rewarded with graham crackers dipped in marshmallow spread.
Sarah Kozak-Weaver and Autumn Rudlong demonstrated how orange juice tastes differently when it comes from a box, can and plastic bottle. That fascinated the grown-ups, too.
And at a flavor processing table, Tim Lott and Ian Kay unveiled the differences in sweetness in regular and ultra-filtered whole milk and chocolate milk.
Every delicious morsel of learning was made possible by a U.S. Department of Agriculture (National Institute of Food and Agriculture) grant to Julie Goddard '99, Ph.D. '08, associate professor of food science, to train future food scientists on public communication. Collaborators on the grant are Alireza Abbaspourrad, the Yongkeun Joh Assistant Professor of Food Chemistry and Ingredient Technology; Sam Nugen, M.S. '99, Ph.D. '08, associate professor of food science; and Martin Wiedmann, Ph.D. '97, the Gellert Family Professor in Food Safety.
– Blaine Friedlander